Welcoming New Catholics
If you are an adult who has never been baptized, were baptized in another Christian faith and are interested in becoming Catholic, or were baptized Catholic but never made first communion and confirmation, consider being part of our RCIA (Rite of Christian Initiation for Adults). It is a group process that meets on Sunday mornings from September to May. We celebrate the Sacraments of Initiation (Baptism, Confirmation, and First Communion) at the first Mass of Easter. To find out more, contact Fr. Joe. RCIA begins September 10.
Blessing of Runners
It's an Assumption tradition. There will be a special blessing for those participating in the Bank of America Chicago Marathon during the 5:00pm Mass Saturday October 7. If you are running in the Marathon the next day, come to the 5:00 Mass on the 7th and bring your fans and your family! Pictured is the 2015 event. See the slide show in Celebrations.
Were you married here?
We sent a more formal invitation to couples who were married at Assumption during the past three years, inviting them to return for the 10:30 Mass on October 15 for a special blessing and food and drink afterwards in the Parish Hall. But we would like to extend that invitiation to all couples married at Assumption--be it earlier this year or as far back as 1881! Just kindly email elizabeth.a.kabacinski@gmail.com and let us know you are coming.
Marathon Sunday Parking
Those driving to Assumption for Mass on Sunday morning October 8 will need a special Marathon Parking Pass to gain entrance to Mart Parc, where we validate parking. Parking Passes will be available after all Masses the weekends of Sept 23-24 and Sept 30-Oct 1.
Young Adult Scripture Sharing
Are you looking for a meaningful way to grow in your faith and learn more about the Word of God? The Archdiocese of Chicago is launching Six Weeks With the Word of God to provide you with an opportunity to do just that. Beginning the third week in September, young adults will meet in nine different loctions across the Archdiocese. For more information: pvm.archchicago.org/events/six-weeks-with-the-word-of-god.
Assumption visits Our Lady of Sorrows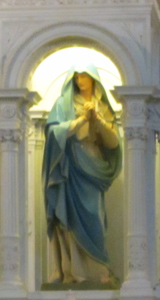 A group of Assumption members went to Our Lady of Sorrows at 3121 W. Jackson Blvd to join in their celebration of the feast day of Our Lady of sorrows on Sunday, September 17. Nearly 30 parishioners represented Assumption - 20 of them in a bus arranged by our Parish Pastoral Council.
Click any image to see a larger version, click "more" for the rest of the story.
...more
Taize Prayer
Our monthly Taize Prayer Service will take place Monday evening October 2 from 7:00 to 8:00pm. Come and experience a form of prayer that has touched people of all faiths all around the world.